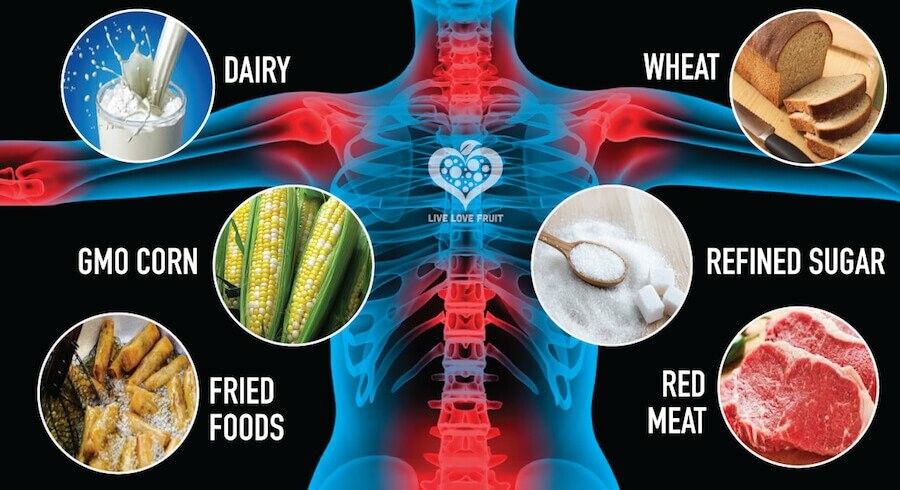 Talk about an accidental discovery ...
I've got a client who went on a trip to Europe a few years ago.
She ate differently than she did here in the US – basically less processed foods and more whole foods (veggies, fruits, proteins, etc.).
Can you guess what happened?
After a few days, almost every one of her everyday aches and pains went away.
Pains she had gotten used to – a sore knee, a tight low back, etc. – were pretty much GONE.
And this happened even though she was MORE ACTIVE all day, walking and sightseeing. Not to mention sleeping on strange beds.
It made such a difference that when she came home, she decided to keep it up – staying away from all her favorite go-to's for snacks and weeknight meals.
She learned a valuable lesson: Sometimes, making a slight change in your lifestyle or everyday diet can have a HUGE payoff.
There are a lot of foods out there that can increase inflammation in your body.
And as you probably already know, inflammation is linked with aches & pains (especially if you have arthritis), but also obesity, diabetes, and a long list of other diseases.
I've put together a list of foods that are directly tied to inflammation, according to the Arthritis Foundation.
Sugar. Processed sugars can trigger the release of inflammatory messengers in your body called cytokines.
Trans fats. These can cause systemic inflammation. Even though they're banned, trans fats can still be found in fast foods and some processed items. Check ingredient labels and avoid items with partially hydrogenated oils.
Omega 6 fatty acids. Your body needs a healthy balance of omega 3s and 6s, but most of us get way too much of the 6s, which can lead to inflammation.
They're found in salad dressings, mayo, and many vegetable and seed oils like corn, safflower, sunflower, grapeseed, soy, and peanut.
Refined carbs, aka "white" carbs. White flour, rice, pasta, bread, crackers, cereal, etc. can spike your blood sugar and lead to inflammation.
Alcohol. Moderate drinking (1 drink a day for women; 2 for men) may have some health benefits for many people. However, studies show the more alcohol people consume, the higher their level of inflammatory markers in their bodies.
Processed meats. The methods used to prepare these meats create AGEs (advanced glycation end-products), which are linked to inflammation.
Some people also find they get aches and pains from foods they are sensitive to, like gluten, dairy, and even some vegetables.
I'm not suggesting that you go on a big kick and throw out all of those foods. That can be hard to sustain.
But sometimes making just one or two changes can start you on the road toward feeling your absolute best.
We can also assist our bodies through supplementation. I personally take these three everyday to support my body:
1.
Ningxia Red
: massive antioxidants to fight free radicals in our body.
2.
BLM
(Bones, Ligaments & Muscles): helps joint mobility with collagen, glucosamine, and essential oils
3.
Vitamin D
: powerhouse for immune system and inflammation.
Reach out if you have any questions!
REFERENCES:
Jun 15, 2021 09:48 AM Central
Colleen Riddle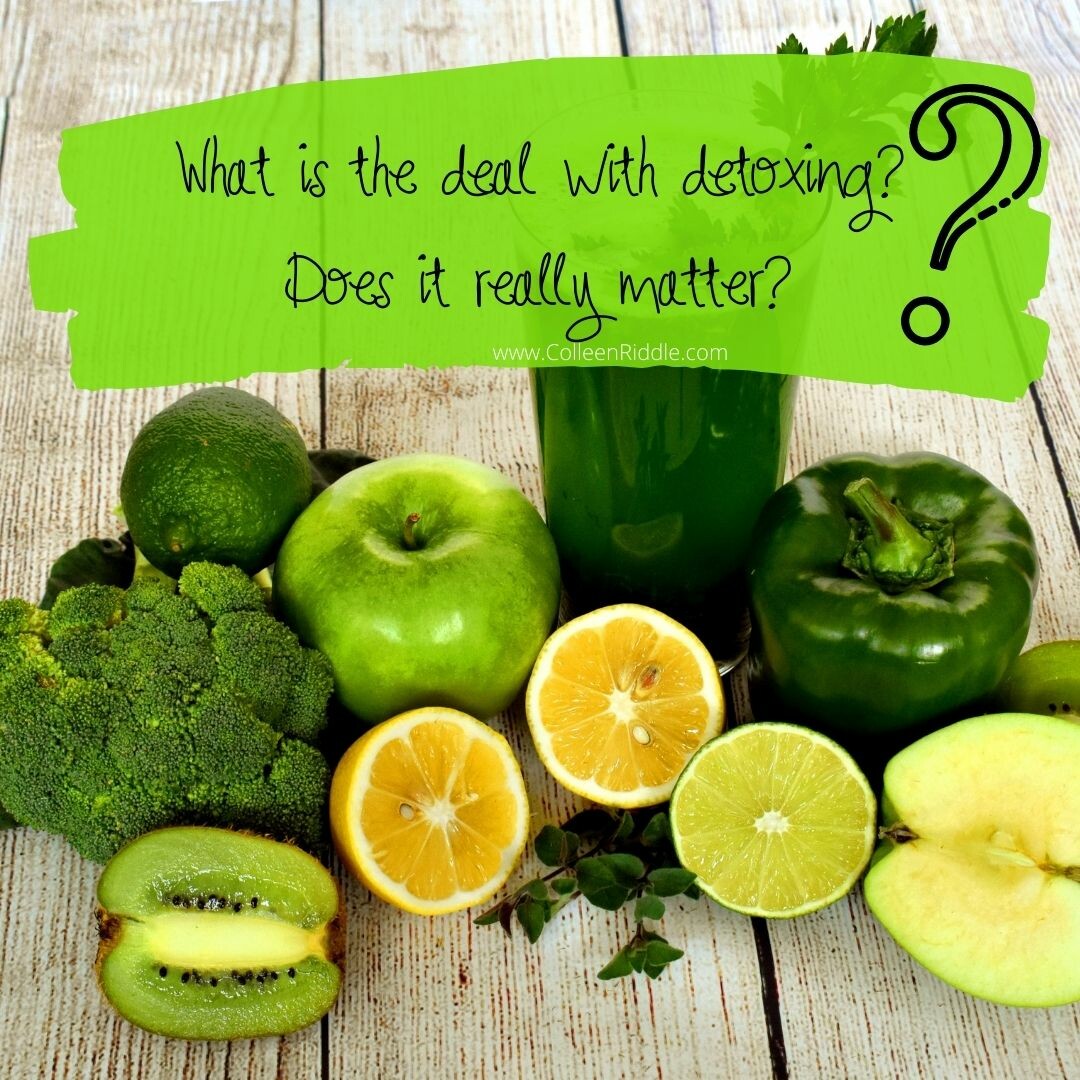 Everybody's talking about doing "detoxes" and "cleanses" … but what does that really MEAN, anyway? And is it even a real thing?
I want to flip the script on that idea as we dive a little deeper into "cleaning it up" this month.
I had a big shift about this a long time ago that completely changed my perspective.
So … a lot of "detoxes" focus on eliminating toxins and getting rid of wastes that are in your body.
Here's the issue with that: Your body already has a complex and amazing built-in detox system, made up of your skin, lungs, kidneys, colon, and liver.
These organs all work together to filter out toxins and waste, and then help you get rid of them by sweating, through your breath, or when you're in the bathroom. I still believe in a good cleanse/detox once or twice a year, but we can do so much in between!
FACT: If there's a breakdown in this system, you probably should see a doctor!
BUT … what if the toxins in the foods you eat, the products you use on your body, or the chemicals in your environment start to overload your detox system, putting a lot of stress on it?
It can get to the point where your body can't keep up with eliminating them as fast as you absorb them, and they start to build up in your body. This isn't as far-fetched as it sounds.
Since we can't actually SEE toxins, here's a stat that can make it real:
Did you know that the average newborn baby has 287 known toxins in their umbilical cord blood (this is according to the Environmental Working Group)? 😳
And the breakdown of those toxins includes 180 that cause cancer in humans or animals, 217 that are toxic to the brain/nervous system, and 208 that are linked with birth defects or development problems in animal research.
What if instead of focusing on CLEANING OUT toxins from your body ... you did your best to avoid them in the first place?!
That way, you're "detoxing" your INPUT as much as possible, before it ever hits your system.
You can do that by upgrading the quality of what you feed your body and also what you surround it with. This will help reduce your overall toxic load. (I have a ton of info about this in my
Clean It Up Challenge Guide
.)
Foods with fewer pesticides, antibiotics, contaminants, etc.

Personal care products with fewer known toxins

Staying away from plastic water and food storage containers

Using more green home care products
With a little intention, you can lower the number of toxins you're exposed to in the first place!
It's a much more PROactive approach to your wellness.
So: I have a little bonus challenge for you today! One of the best things you can do to help your body's detox system do its job is to DRINK WATER! (From a BPA-free container, obviously – and bonus points if it's filtered water!)
This helps your system flush out all those waste products.
Exactly how much water you need every day depends on (among other things) how active you are, any health issues you may have, and your size.
But as a general rule, shoot for at least half of your body weight in ounces (Ex: 150lbs shoot for 75 ounces of water). If you struggle drinking water try adding a drop or two of Young Living Vitality Essential Oils (my go-to is
peppermint
,
grapefruit
,
lemon
, or
lime
)!
It's not the big things we do once in a while, but the small things we do CONSISTENTLY that bring results. Make sure and download my free 5-Day
Clean It Up Challenge
to give you a step-by-step guide to help removed the daily toxins!
REFERENCE: