Jul 18, 2022 11:35 AM Central
Colleen Riddle
anti-aging, fitness tips, health tips, healthy habits, mobility, posture, postworkout, self care, strength training, stretching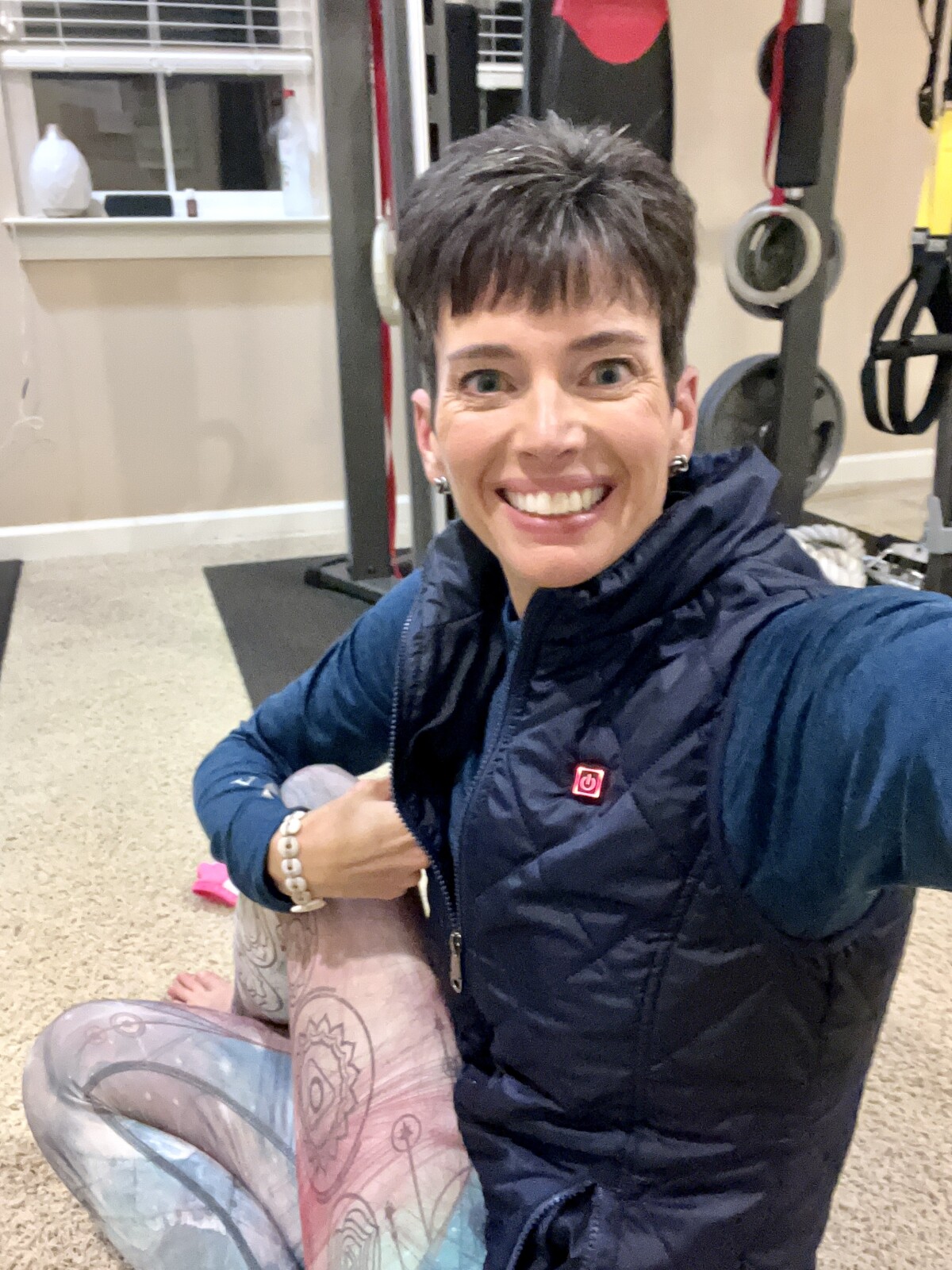 This month I'm talking about simple things you can do to boost your results …
And this one is
surprisingly
effective.
It can help you "hack" your way to less stress, happier moods, and better workout results (plus less soreness).
Here it is: Don't skip your post-workout cooldown or stretches!
Your cooldown has powerful implications for your health … right down to your central nervous system.
I know you're busy and want to jet off when your workout is over, but it's absolutely worth taking a few extra minutes to wind down after your workout.
What you do during your cooldown will depend on your workout, but here are some basic guidelines:
→
If you just did a cardio or high-intensity workout,
spend at least 5 minutes gradually returning your heart rate to normal by slowly reducing the intensity of your movements (walking, cycling, etc.).
This can help stop blood from pooling in your extremities, which can make you feel dizzy, lightheaded, or even faint.
→ If it was a strength-training workout,
hop on an exercise bike, treadmill, or elliptical for a short, moderate-intensity session to help avoid post-workout soreness. Be sure to bring your heart rate down gradually.
COOLDOWN PHASE #2:
Where the real magic happens!
After exercising, your muscles are warm and pliable, which makes it a GREAT time to work on your flexibility.
Prevent soreness

Improve mobility

Improve your posture

Improve flexibility & your range of motion

Cut your risk of injury

Increase blood flow

Relieve tension and stress

Promote relaxation
Not to mention the fact that it just plain feels good to stretch after a workout!
If you normally skip your cooldown, try it for a few weeks and see if you notice a difference.
At Elite Physique Personal Training, I love helping people over 40 move better, feel better, gain more confidence, and get their energy back!
My 28-Day Total Body Transformation program can help you lose fat and build muscle with effective workouts and meal plans that work WITH your body, not against it. You can check out more info
HERE.
I ran into a client last week at a community event. He did my 28-Day program earlier this year. He's continuing to lose weight because he learned how to create sustainable, healthy habits that stick (and he doesn't feel deprived). Nothing warms my heart more!!
Here's what he sent me when he completed the program......
"I participated in the 28-day total body transformation challenge. She was there for me 100% even when I wanted to give up. Her positive vibes and gift of motivation truly got me through the tough times. I would recommend this program for anyone! It helped me drop about 8lbs; I had to buy new belts, and I feel fantastic!-"Rob G.
Colleen Riddle, ACE Certified Personal Trainer
Young Living Gold Independent Distributor
Feb 16, 2021 06:15 PM Central
Colleen Riddle
I have some really interesting and practical info today that might just help put you in a better mood the next time you're having one of "those" days.
It has to do with some pretty cool studies that looked at the link between your posture and your mood! It has definitely made me double-down on checking my own posture during the day.
OK … let's talk about how your posture can affect your mood.
This month we're focusing a lot on core strength and how it plays a role in so many areas of your health and wellness. A stronger, balanced core helps you have a better, more upright posture.
Which affects everything from your digestion to your breathing and even how stressed you might feel!
Have you ever noticed how your posture affects how you feel? And vice versa? Like you are tired, so you start slouching down in your chair, and you feel even MORE tired.
Or, you are sitting upright and having an absolute KILLER day at work, and feeling at the top of your game?
So, the first study I want to talk about looked into how your posture while you're sitting down can affect your mood.
Scientists at the University of Auckland took 74 volunteers and had them sit in either an upright or slouched posture. They also made up a story about why they had to remain in that position so they didn't know what the study was about.
Then they had everyone do a bunch of activities, tests, and assessments – and here's what they found...
---> The people who sat upright had higher measures of self-esteem, general awareness, they were in a better mood, and less fear than the slouching test subjects.
---> Meanwhile, the people who sat with bad posture used more negative words, more words related to sadness, and they also spoke less in general.
Pretty amazing, right? This effect isn't just limited to your posture while sitting!
Another study done in Auckland looked at how people's walking posture played a role in their mood and stress levels.
First, researchers got a baseline level for everyone in the study for their mood, fatigue level, feelings of being in control, as well as their blood pressure, skin temperature and skin reactivity, and more.
Then, they had them walk in either a slouched or upright right posture and surprised them with an unexpected stressful situation.
Here's what they found: The people who walked upright felt more awake and powerful, had fewer negative emotions, and felt less fatigued than the slouching group.
PLUS … the people who walked with good posture had lower blood pressure, had less skin response, and lower skin temp than those walking with a slouch.
I think this is so interesting because we associate standing tall with being more confident, and these studies watch these associations play out in real life!
This is just one reason why it's so important to check your posture on a regular basis to make sure you're not slouching – it's good for your body, but it's also good for your mind, mood, and performance!
How often do you check whether you're sitting or standing with good posture? It's a great habit to get into because it pays off in so many ways.
Are you going to join me in those posture checks?
Leave a comment and let me know!
Here's what some participants say about the Core Challenge:
"Finished day 5 and am loving the way I can feel the extra strength and support that I feel in my core!

I am going keep these wonderful new habits in my life!"-Sandy H.
"Posture checks and stretch breaks helped while meal prepping yesterday which always gets my back but better with your reminders so thank you for this challenge and making me more core aware"- Jennifer J.
"Completed!! Thanks for the jump start on my road to better health!!" Sunny S.
Thanks for stopping by!
REFERENCE:
https://pubmed.ncbi.nlm.nih.gov/30261357/
Colleen Riddle, ACE Certified Personal Trainer
Young Living Gold Independent Distributor