Dec 27, 2021 09:57 AM Central
Colleen Riddle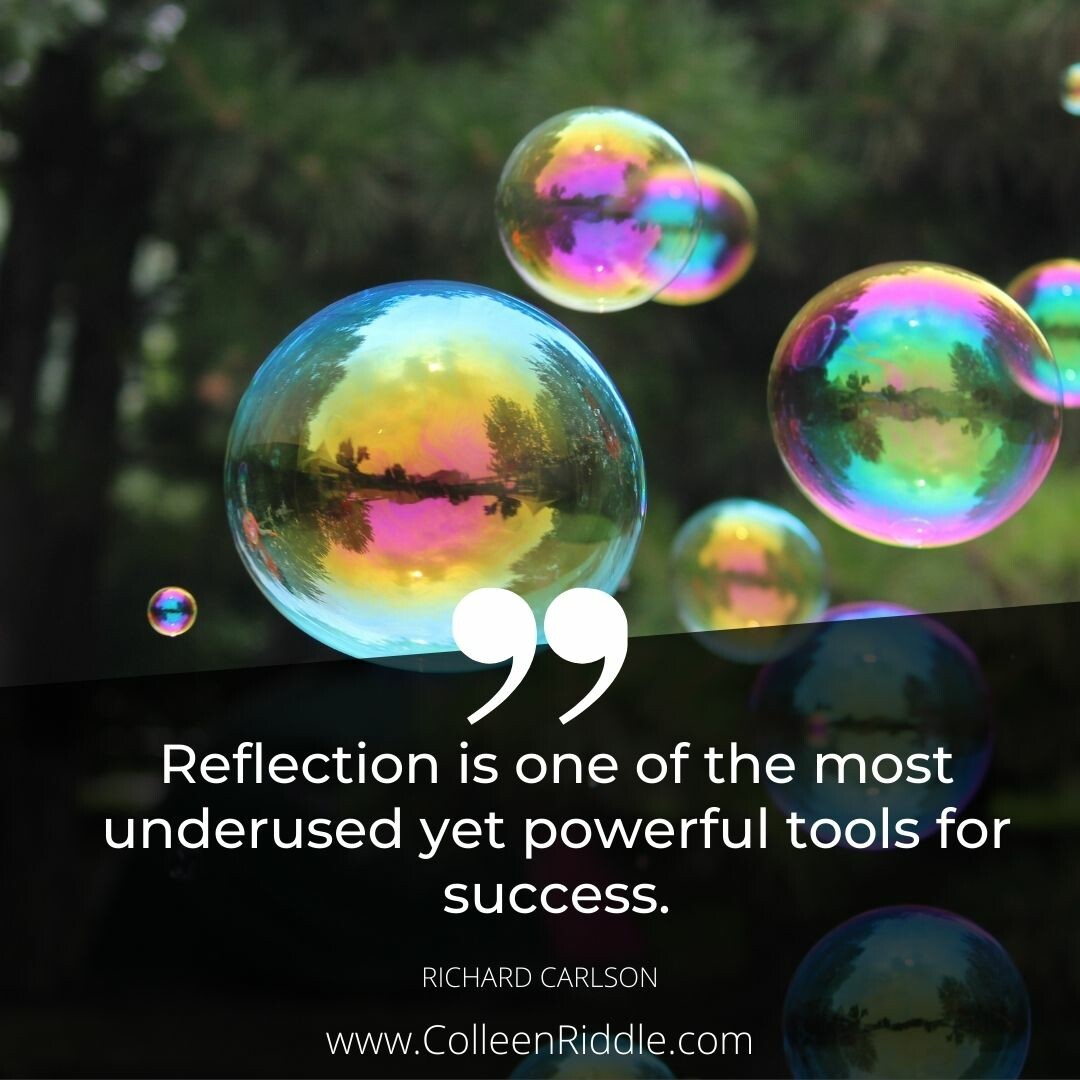 As we approach the last week of 2022, I've got a GREAT mindset exercise that'll help you do two things:
Set amazing new goals for 2022, and even more importantly,

Give you the power to reach them.
FACT: almost all of us have had New Year's resolutions at one point or another ... that we gave up on just a few short weeks later.
Want to know one of the main things that separate those who quit and those who don't?
It's engaging in regular REFLECTION along the way.
And a lot of people do it the wrong way.
True reflection is a PROCESS that helps you recognize what's working … and what isn't … by asking yourself specific questions.
Questions that can help take your life to the next level.
Reflection is NOT beating yourself up for what didn't work.

Reflection IS taking time to think about the reasons why certain habits or actions "click" for you and why others are more of a struggle.
It's stepping back to look at the big picture to see what is really required to set yourself up for success.
Here are 5 reflection questions to ask yourself over the next few days as we head toward 2022.
How have you contributed to your happiness and health in 2021?

Where do you want to be a year from now? What is MOST important to you in 2022? (Top 3) Be specific.
For each of your top three things, answer:
What specific things do you already do in your life that is moving you closer to what's most important to you? Do you want to continue doing them in 2022? Take them to the next level?

What specific things do you currently do that stalls your progress or holds you back? Why do you believe you take these actions?

What are 1-2 simple steps you can start taking NOW to make your vision a reality?
Another great question to ask yourself: "What would this look like if it was easy?"
If you get stuck, it helps to get an outside perspective.
This is where coaching comes in …
Because a great coach can help you make the process a lot easier and more direct. They can eliminate the learning curve to find the fastest path to real results.
And it's one of the things we do best in my 28-Day Total Body Transformation Challenge. This program is specifically designed to take the guess work out of healthy eating and exercise. With my coaching and fun group atmosphere you will finally learn how to create and sustain healthy habits for a lifetime.
If you are ready for meaningful – and measurable – results, we are here to help. Here's what one client had to say about the 28-Day program, "When I started Colleen's 28 day challenge, I was physically and emotionally in a rut. This challenge completely turned me around and headed me back in the right direction. I feel and look so much better! I would recommend this challenge to anyone!! Colleen is amazing, kind and fun to work with! Her workouts and all her lifestyle ideas are absolutely wonderful!! I would go so far as to say this stuff is life saving!!!" -S.H.
You do NOT have to go it alone! Click here for more info about the 28-Day Program. We start January 17th!
Here's to a happy and healthy 2022!